BarrelQ Big Barbecue with Teppanyaki Plate and cover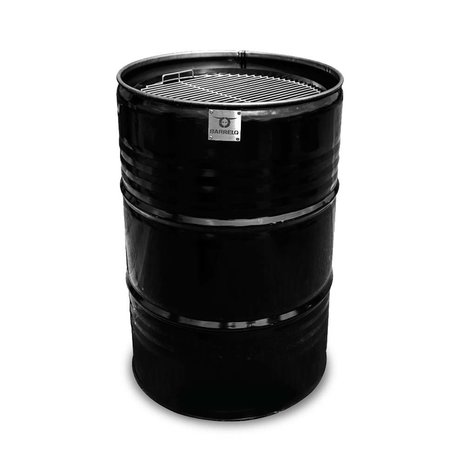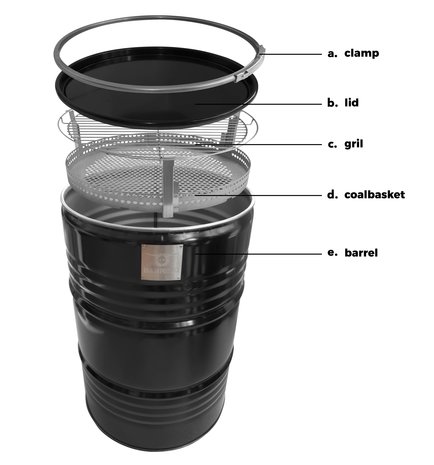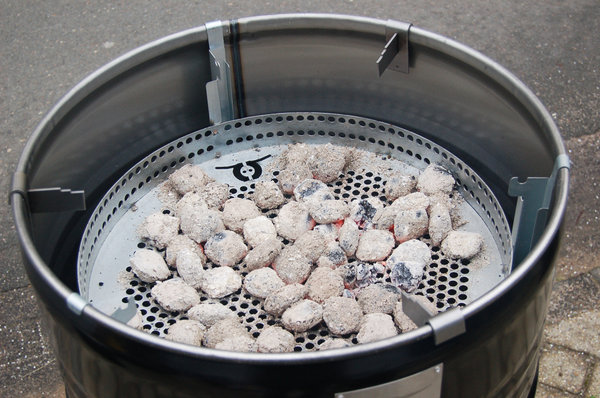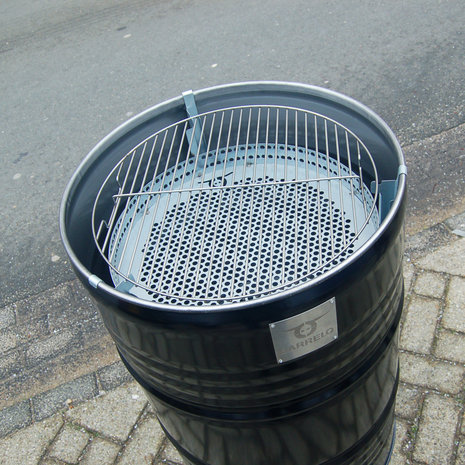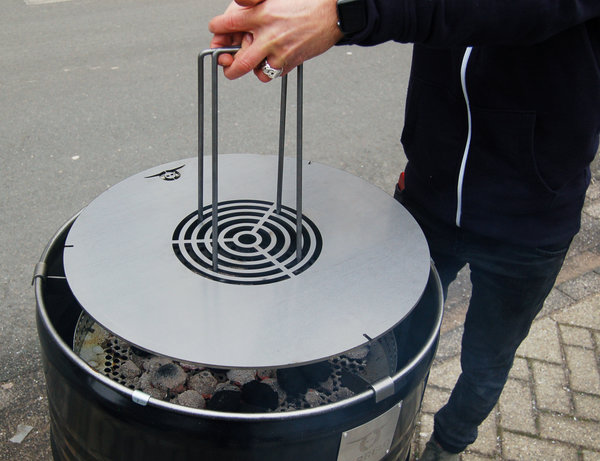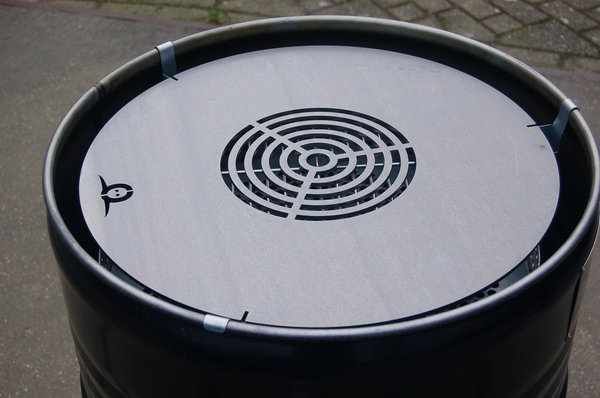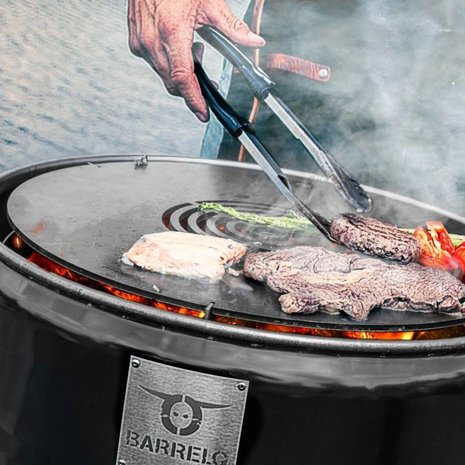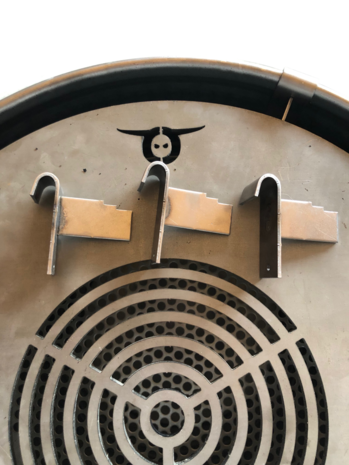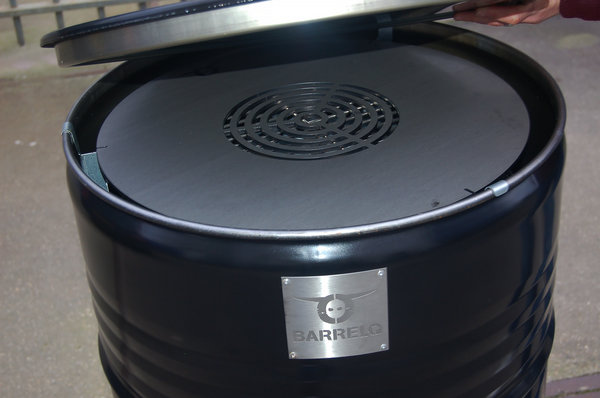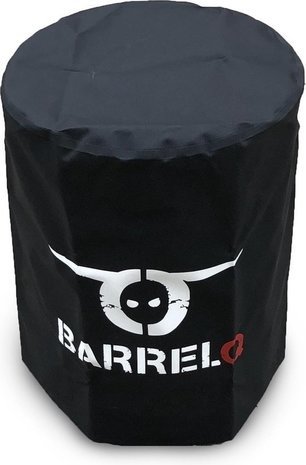 Product description
BarrelQ Big multifunctional oildrum charcoal barbecue with teppanyaki grill - Baking tray 6mm steel. Barbecue fire pit standing table in one.
The BarrelQ Big Original is a multifunctional barbecue made from an 200-liter oil barrel With a steel basket for the charcoal and grillage for your meat and vegatables. But it is not only a fantastic grilling barbecue, he can be used for more! You can bake on it with the Teppanyaki plate (A Japanese cooking style with a iron plate.) When you are not grilling or baking, you can use it as a firepit or standing table.
Teppanyaki plate
With the Teppanyaki cooking plate the BarrelQ Original turns in a Japanese Kitchen. The Teppanyaki plate creates an oriental atmosphere and guarantees a breathtaking barbecue experience. The 6 mm thick iron plate stores heat significantly longer than the everyday grillage. Japanese cooking is all about healthy eating. Quality, the freshness of the ingredients and a sufficient amount of nutrients are very important. Vegetables, meat and fish should therefore touch the grill plate as short as possible to avoid burning essential nutrients.
In addition, this type of cooking requires little to no oil. This is much healthier and improves the taste of your dish. Especially if you turn your vegetables or meat regularly, you and your guests are guaranteed a feast. Japanese cooking is all about healthy eating. Quality, the freshness of the ingredients and a sufficient amount of nutrients are very important. The Teppanyaki grill plate is easy to maintain and can be cleaned quickly thanks to the smooth surface.
Fire pit or standing table
The BarrelQ is a very user-friendly barbecue. A couple of charcoal briquettes, light up the fire, grillage on top and the adventure can begin. After a successful dinner, throw a little wood in the basket and turn your BarrelQ into the ultimate firepit or use it as a standing table. It can easily hold 30 beer bottles and 2 wine bottles. He is a robust and durable charcoal grill.
Protective cover
It withstands the toughest weather conditions. Also we have innovated a BarrelQ protective cover to protect you BarrelQ barbecue from unnecessary dirt and wear. Since the first impression always counts, comes the cover with a stylish BarrelQ logo. You will receive the protective cover for free!
Specifications and Package contents
- BarrelQ Big barbecue. Height: 87cm, Wide: 57cm, Grill: 47 cm. enough grill space. Weight: 15
  KG. Inside of the drum is coated and doesn't
- Basket: The basket is made of perforated steel plate.
- Grill Grate: sturdy and easy to clean
- Lid with clamp: A suitable lid with lid clamp to close the barrelQ and use as a standing table
- Instruction manual: English
- Teppanyaki plate is 6 mm thick. Included holders and mount (see the pictures).
- BarrelQ protective cover 100% water- resistence cover. Made of high quality (600d) polyester.

The BarrelQ is supplied in black as standard (but can also be in purple or with printing). Make your own BarrelQ. The possibilities are endless. Please contact us for this.
Product specifications
Article number

8719327363089

SKU

3089

EAN

8719327363089