Campbell's Soup Barrel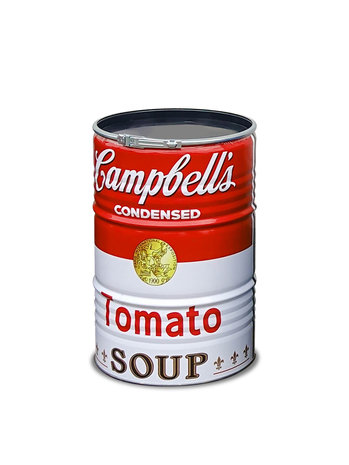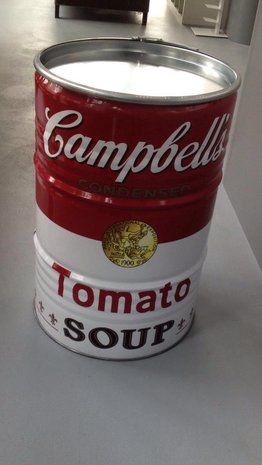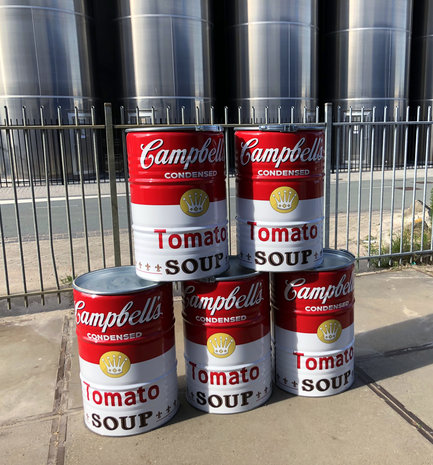 Product description
It's Andy Warhol's famous Campbell's Soup can, but larger than life. The size of a 200-litre metal barrel, to be precise.
We like to think of it as applied art. For art lovers in general, and Pop Art aficionados in particular. Because this is a lidded barrel, you can use the drum for storage as well. And who doesn't like tomato soup, anyway?
It's a little piece of art history. Andy Warhol was an American artist who also worked as a music producer and actor. He is among the major figures of the Pop Art movement, which began in the 1950s and 60s in the United States and the United Kingdom. We think Pop Art is the perfect way to add colour to our oil drums. Don't you agree?
The Barrel is crafted entirely of steel and is therefore 100% recyclable.
Height: 87 cm
Diameter: 57 cm
The Barrel is made from an oil drum. Who says an oil drum can only be used for oil? Not us! 
Prices include shipment and VAT.
For companies outside the Netherlands: do you want to shift the VAT? Mail or call us for your order. Then we will send an invoice without VAT (21%). We will then need your VAT number.
Product specifications
Article number

8719327070925

SKU

0925

EAN

8719327070925