Campbell's Soup 200 L oildrum standing table with black top 80x105 cm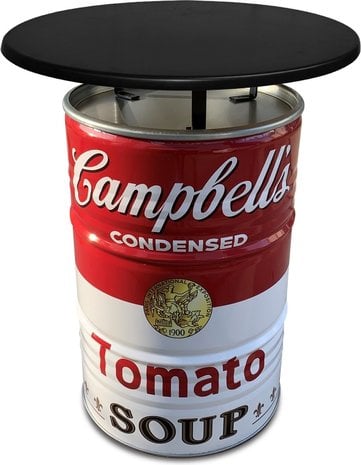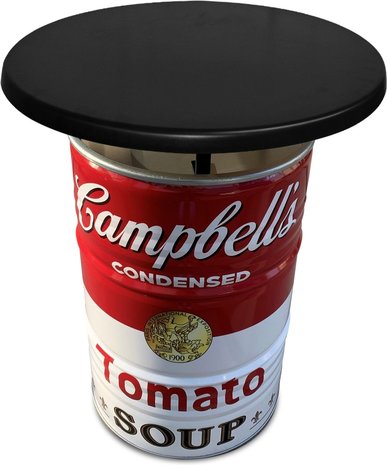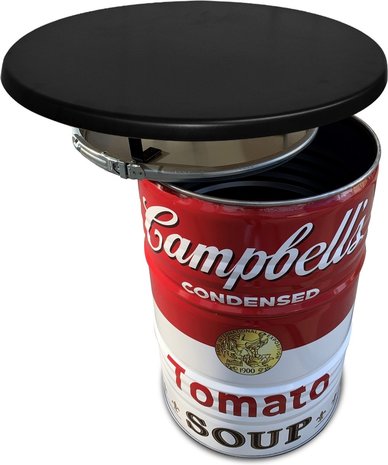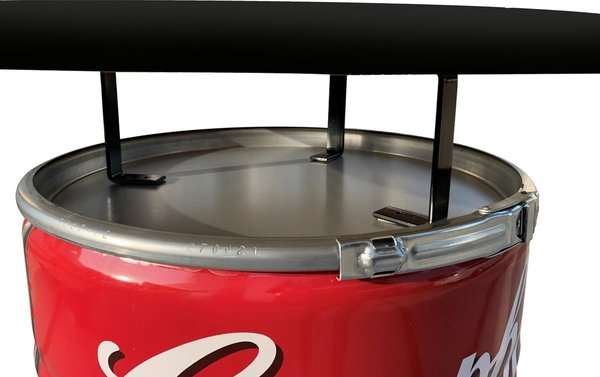 Product description
Campbell's Soup Industrial/ retro/ vintage design standing table, bar table by Andy Warhol| 200L oildrum- metal drum 80x105 cm | Black barrel| with Black table top.

This sturdy industrial lifelike tomato soup furniture standing table bar table is made from a new 200 L oil drum. The barrel is stickered (wrapped). On top of it is a black table top. The table top is well protected against moisture, water and other weather conditions. The diameter of the blade is 80 cm. The blade and barrel are connected by steel brackets and mounting hardware. Easy to install.
The height of the standing table is 105 centimeters. The vessel we use is a lid vessel. This means that the lid can be removed. For example, you can strengthen the oil barrel standing table with, for example, sandbags. Handy if you put it outside and it's windy. Or store your stuff in it. 200 liters of storage is a lot! The standing table is suitable for any garden, for in the cafe, on the terrace or in the store.
The Art History of Andy Warhol
Andy Warhol was an American artist. Warhol also worked as a music producer and actor. He is one of the great men of pop art. Pop art is an art movement that emerged in the United States and England in the 1950s and 1960s. We think that pop art lends itself perfectly to an oil drum. However? The Barrel is completely made of steel and therefore 100% recyclable. The Barrel is made from an oil barrel.
Features and Dimensions
The barrel is wrapped. The inside is coated and will not rust! The barrel comes with a lid and lid clamp and of course a black table top.
Barrel width: 57 cm. Table top: 80 cm. thickness 2.5 cm
Height: 87 cm
Weight: 21 KG
Dispatch
We ship the standing table in two separate packages. The first solid box with the oil drum. The second package contains the wooden top with the brackets. Bolts and nuts are also included to connect them together. It's super simple, but just to be sure, we also include a manual!
Product specifications
Article number

7434815553513

SKU

3513

EAN

7434815553513